Welcome to MedTouchMassage.com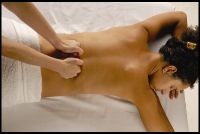 I'm Catherine Newton, NCLMBT #14165, a Licensed Massage Therapist in North Carolina. At Medical Touch Massage, I'd be delighted to help you use Therapeutic Massage to achieve your health and wellness goals! I specialize in Therapeutic Massage for Wellness/Relaxation, Pain Reduction/Deep Tissue and Lymphatic & Lymphedema Treatments. I presently meet with clients by Appointment only at offices in Clayton and Wilson.
SKILLS & MODALITIES
Swedish, Deep Tissue, Pain Reduction, Trigger Point, Taut Band, Myofascial, Neuromuscular, Therapeutic, Medical Massage, Lymphatic Drainage/Detox, Manual Lymph Drainage (MLD), Compressive Decongestive Therapy (CDT), Lymphedema Massage & Skin Care, Aromatherapy, Hydrotherapy, Chair Massage Events
PRACTICE LOCATIONS
Address: 6132 Little Creek Church Road, Clayton, NC 27520
Use Boling Street from US70 Business Highway
or US70/Bypass - Ranch Road Exit
Book Online at MassageBook - or -
Call/Text Catherine Newton at 919-412-4381
Or you can get in touch with me directly by using the Contact Info - it also has a Google map for the Clayton Office Location.
WILSON, NC: Five Touch Spa & Salon - you can book online from the website using the BOOK NOW button

In addition to offering a delightful spa massage experience, Five Touch Spa & Salon also offers a terrific selection of services including hair, nails, facials, and other services. Tawanda Auston, the owner of Five Touch Spa & Salon, is not only a licensed as a massage therapist,she is also a nail technician, and esthetician as well. I'm excited and proud to work with her and the other Five Touch Professionals in Wilson.
PRACTICE PHILOSOPHY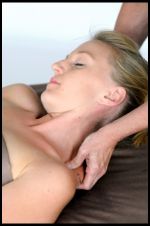 Though I do offer (what my clients tell me is) a wonderful, relaxing massage, I tend to focus on client issues and helping them deal with particularly troublesome, painful areas on their body. My clients find I am often able to help them with pain reduction or trigger point areas, overused muscles or soft tissue damage from surgical or accident situations, headaches and TMJ issues. I also work with fibromyalgia, chronic fatigue and lymphatic/detox and lymphedema conditions.

I'm totally comfortable customizing your massage based on whether you want, or need, an overall relaxation experience, specific spot work, or a combination of both!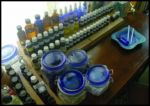 I am also trained to use select Aromatherapy Essential Oils and Hydrotherapy techniques to enhance your total massage experience. And I have created a set of products my clients kept calling "Catherine's Magic Potions" - so that's what we decided to name them! The "Magic Potions" include lotions and creams for pain reduction, salt & sugar body scrubs for skin nourishment and health and a variety of other lotions, creams and oils to address other specific client situations.
PROFESSIONAL MEMBERSHIPS
TRAINING
As well as a comprehensive college education of more than 900 hours and graduating with Highest Honors in Massage, Anatomy and Pathology, I have also received specialized training in Anatomy & Physiology, Aromatherapy, and Massage Modalities including: Myofascial, Neuromuscular, Deep Tissue, Trigger Point & Taut Band Therapy, as well as Lymphatic Facilitation/Detox, Manual Lymph Drainage (MLD) and Compressive Decongestive Therapy (CDT). A graduate of the University of North Carolina at Chapel Hill with a Bachelor of Science, I am also presently enrolled in the Therapeutic Massage Associates Degree program at Johnston Community College.
As I finish additional extensive training later this fall, I will increase my focus on Lymphedema treatments and client education. One of my goals this year is to become a nationally Certified Lymphedema Therapist (CLT-LANA) by LANA - the Lymphology Association of North America.
LYMPHEDEMA TREATMENT INFO
Since 2009, in the State of North Carolina, insurance companies are required by law to provide coverage for the diagnosis, evaluation and treatment of cover of Lymphedema. You can see the law here: NC Lymphedema Act.
Providing education to the millions of North Carolinians that cope with Lymphedema is a key goal of mine. They and their caregivers deal with Lymphedema every day, yet neither they nor even many healthcare providers realize how successfully Lymphedema can be treated and managed using proven treatments and resources. Please keep checking back as I update information and links to resources that may help! If you'd like to be stay updaed on Lymphedema News and Information, please drop me a note using my Contact Info link - drop down menu Questions/More Information. Please mention "LE News" in the comments section.